Our crew for today:
Super Sailing Coordinator: Maleea.
Radio and Time-keeper: Scott
Life-jackets: Wilma
Registrar and Chef: Helen
Boat Operations Manager: Denis
Observer in Charlie's Chariot: Tony
Sailors: Helene, Crosbie, Vince, Michael, Ian, Jannie, Ivan, Denis
Charlie's Chariot skipper: John
Photographs: Ken
Pontoon Manager: David
Helping on the deck and Pontoon: Super-Volunteer Ella
This superb crew totally worked as a team under the guidance of Maleea, who was noticing everything that was happening and jumping in to help where necessary to keep the team working together.
This enabled 17 participants to sail this beautiful morning, where the temperature was perfect, and the wind conditions ideal for sailing on Manly Cove.
Your Content Goes Here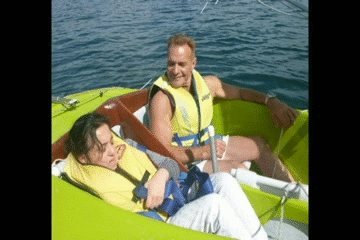 Slideshow of Vince and Kerry in Black Swan, Rebecca and Crosbie in ING, Helene and Keely in Alex, Jannie and Yupa in Black Swan.
James had his double shot of sailing, then Kerry and Anna were taken out in a boat. Judy and Adonis arrived next. Judy has managed to grow in the last few weeks, so was fitted with a different life-jacket. Sid and Shiva arrived and went off for their sail, then Rebecca, Sharon, Kathy from Cooyong House with helper Kerry. Then Ruth arrived all the way from Israel, just for a sail. Keely and Mark came from Tramway with helper Yupa, and finally, Manu from Creativity Inc, with his friend Josh, who did not sail, with helpers Ben and Rose.
A great sailing day, with lots going on at the same time for visual impact: A large group of Dragon Boaters came down to use the pontoon, a mast was returned from Pittwater, lots of action on the deck to watch, and perfect weather. A Sensational Saturday indeed.