What a great team we had this morning!!!!
Under the fabulous leadership of Jim,
Malcolm, Nola and others on the pontoon,
Sailors: Rob, Brian, Denis, David G and W., Jeremy, Michael, rigged the Hansas, launched them, and went off with learning sailors:
Nola, Michael, Ivan, Ken, Candice, while we waited for our first participants, which didn't take long. Pam, Georgie and Dennis arrived, and were quickly accommodated with a Hansa, and a ride on Charlie's Chariot.
Helen was the registrar, Wilma organised life-jackets for all, Corey was the Radio Operator, Michael worked on the deck and the pontoon while wife, Ingrid and son Ollie went for a short sail.
We have so missed being busy for the last 7 or 8 months of lock-down that it was a real relief when our participants started arriving by bus and car.
Sunnyfield brought Kane, Vanessa, Ginny.
Sally brought Zoe.
Pam brought Dennis and Georgia.
Kylie and Ben brought Jan, Ken and Matt.
Annie brought Paul.
Joshue from Sunnyfield brought Peter, Tamara, Susan, David.
Ruby brought Warren, David, Sifa, Adam and Peter Rob.
Ashief brought Hanlin.
An amazingly innovative, exciting and enjoyable morning, and one that I hope is mirrored often in the coming year.
In this way, we will have some new, young sailors to take over from the older generation.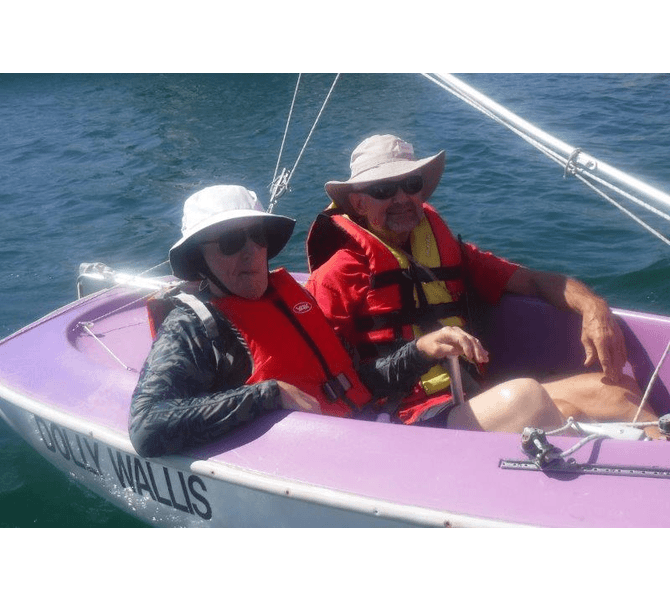 Dennis and Malcolm in DW
Ivan and David G in Eli D
Kane and Jeremy in Alex
Ingrid and Rob
Ollie and Michael in Vin
Kane and Denis in Woody
Tamara, Susie and Peter in CC
Rob and Zoe in Black SWan
Sifa and Malcolm in DW
Our busy pontoon on 15.12.21