Six boats entered the Thursday twilight races, and sailed in a strong 12-15 knot wind, with a short choppy sea that found its way into all the boats.
The first race was a team race with the boats paired off, and both had to finish the race together.
So if one boat took off, they had to wait for their partner in order to finish.
Woody led the first race closely ahead of Eli D and then Dolly Wallis, who was Woodys team mate. Eli D's team mate was Alex and they suffered steering problems and could not finish. So despite Eli D's attempt to stop Woody and Dolly Wallis from finishing, they won the team race.
In the second race Vin just pipped Woody on the line to win then followed Dolly Wallis and Black Swan.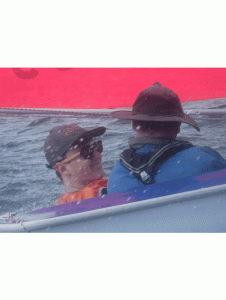 Half the team at Grill'd Healthy Burgers, and the cheque.
The team at Manly Sailing: Denis, Dennis, Michael, Warwick, Kieran, John W, Nola, John P reclining.
Supporters, Pam and Georgie.
These last 2, boats rigged and ready to go.