It was indeed a day to make merry this morning. The sky was blue, the wind a very calming South Easterly, the temperature perfect.
Our very hard-working team put out and rigged 7 boats, with the expectation that we were going to take 5 groups for a sail. Nola was our admirable Sailing Coordinator today, a first time for her, and she was an example of what a Sailing Coordinator should be…..firm in her decisions, and empathetic to the needs of both volunteers and participants. John W was the Charlie's Chariot driver, with Eileen as observer and photographer. Thanks for some lovely pictures, Eileen. Sailors were Caroline, David W, John P., Denis, Jim, Michael, Brian, Jackie. Corey was very busy on the radio with 7 boats out there to organise.
Trevor was first to arrive, and went off with Jim.
Then our special group from St Lucy's at Wahroonga arrived. What a great time these children had with lots of lovely smiles after a tentative beginning. Maggie, Matthew, Anna, Jai, Hervey, Leo and Lachlan were full of confidence once they had experienced lowering themselves in to the boats. Rosie, their teacher was everywhere, helping each child into the boat, and building their confidence to go out with each sailor. A couple of these were not confident enough to start sailing, so went in Charlies Chariot so that they could see their friends enjoying the sailing boats.
SEALS arrived next with helper Simone who quickly learned how to tie up the boats securely for her group. Tom waited patiently until Dad Andrew returned from a job, and then went out with Dad. Bart chose Charlie's Chariot as his mode of transport, as did Elyce and Nikki after some mind changing, but Doug, Sean and Gordon confidently sat in the boats and had a lovely time sailing.
Wayne from Aruma came down with Stephen, then from the same group, Denise and Annie brought James and Kyle. It is wonderful to see this group enjoying their sailing so much, and confidently and independently accessing the boats.
Rodney, Luke, Rosa, Ben and Anna arrived with Mel and Phil, and thoroughly enjoyed the slightly stronger breeze that had sprung up.
Last of all, in the perfect South Easterly which dramatically cooled things down came the BIRDS with helpers Wendy, and Amanda. Steve, Danielle (solo sailor) James, Melina, Stuart, Carlo (who enabled a double lot of sailing,) Peter and Alan had a delightful sail before going off for their Fish and Chip lunch.
The morning finished by putting the boats away after an exhausting morning.
Thank you so much to the helpers of the groups, whom we kept busy today, asking them to help on the pontoon as well as caring for their participants up on the deck.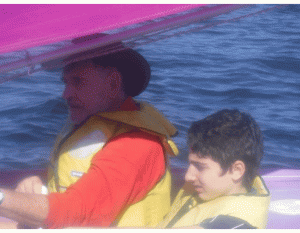 David W and Matthew in Dolly Wallis
John and Maggie in Alex
Caroline and Gordon in Ralph Newman
Brian and Lachlan in Eli D
Bart in Charlie's Chariot
James in Vin
David and Rodney in Vin
Brian and Luke in Eli D
Denis and Steven in Woody
Michael and Carlos in Black Swan