Two features stood out at today's sailing session.
First, the perfect weather that seemed produced for us only, second was the multi-tasking all of the volunteers took on to make the day run as smooth as silk.
Sailing Coordinator Extra-ordinaire: Ken remained a lynch-pin of the day right the way through, with support from
Support Boat driver: Warwick, then David.
Observer and practising for her Power Boat License, Nikki, as well as multi tasking to eminent photographer: Nikki.
Tony on the radio.
Denis helping with rigging and repairs to Alan Wood, and then metamorphosing into a sailor.
Other sailors: Ivan, Jackson, Jim, David G, Michael, Mal.
Helen the chef.
Wilma the Registrar and Life-jacket lady.
Lyn the Time Keeper.
Erek the learner on the pontoon.
And everyone teaming together at the end of the day making sure that everything was packed away neatly.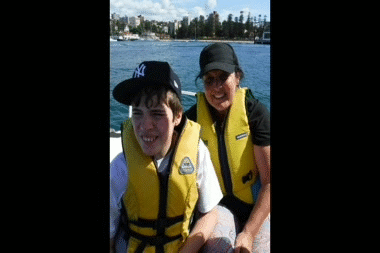 Slideshow of Marina and Mal in Woody, Tim and Aletta in Charlie's Chariot, New driver; Nikki, Alan in Clea and Manu with Michael in Alex.
Our very welcome participant guests this morning were:
Judith, who arrived early and supervised David, who was rejigging the wiring on Alan Wood so that everything works in the right direction at the right time. David was not able to complete the repair without some tools from home, so will work on this during the week, so that Judith will be ensured of a fantastic sail on her next outing.
James, who slept away his sailing time, absolutely relaxed in the boat with Ivan.
Danny and David, who sailed tandem.
Alan, who first of all helped David with the Alan Wood repair, then took off solo across Manly Cove in Clea and did not return for over an hour, having a wonderful time zooming across the water at full speed ahead with an ecstatic smile on his face.
Ollie, who is going to volunteer for us on Saturdays, but today was just a sailor, enjoying his moments on the water.
Judy and Adonis from Wandella House with helper Rita.
Tim, who came from Wesley Mission with Aletta, and chose Charlie's Chariot for his ride.
Bec came with Julie from Curl Curl.
Ben, Susan, Alyssa came with Elsa and Christina from Balmoral House. Susan was the best girl possible on her sail, remarking on the sunshine, and keeping Jackson amused with her comments on everything.
Then Shelby arrived with Fred and both went for a sail so that they could keep a sharp eye on each other.
Jackie, Diane, Tess and Duncan arrived with Kundan from Housing Connection and totally enjoyed their boating activity.
Last of all, our friends from Creativity Inc arrived with helper Ruby, and loved their sailing. It was good to see Manu, Marina and Harry enjoy this activity so thoroughly.
The day finished with some excellent team-work from the Sailability gang, who were washing boats and putting items away at the same time as lunch was being completed, Manly Juniors were arriving and rigging their boats, and others were milling around on the deck.  A picture of purposeful activity.