We started out with a really light breeze this morning, so much so that the paddles had to come out to get across the ferry lane to find enough wind to sail. This only lasted a few minutes and was soon a perfect level for some fun sailing for our participants: David, who was down for the first time and loved every minute, Adonis, Luke, Vanessa, Emily, Tamara from Sunnyfield, then Elias, Oliver, Kath, Jimmy, John, Leesa, from Unissson St Ives. Then we had Alex, David, Kerry, David, Chris and Stuart from Achieve. Last of all, David, Stefan, Nina, Paul, Colin and Denis arrived from House With No Steps. We are very thankful to the helpers from these groups, who helped as much as possible to make the morning run smoothly. Unfortunately, the wind came up beyond our safety limit, so we had to call a halt before everyone got a turn sailing.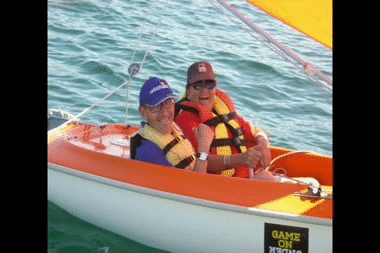 Slideshow of Raghhnild and David in ING, Emily, Brian in Woody, Tamara, Jim in Black Swan, David, Brian in Woody, Steve, Kath in Dolly Wallis, Our busy pontoon.
Our volunteers for today were:
Extra special Sailing Coordinator: Warwick/Eli
Registrar: Wilma
Time Keeper: Corey
Radio: Tony and Corey
Life-jackets: Ros
Support Boat Driver: John/Warwick
Observer: Marcus
Photographer: Ken
Pontoon Manager: Malcolm
Sailors: Raghnild, Ivan, Brian, Helene, Michael, Jim, Steve
Extra help on deck: Ken, Denis.
A wonderful and efficient team this morning, thank you.