The most perfect morning imaginable saw a wonderful team of helpers and competitors at Manly Yacht Club fort the annual Christmas Regatta.
Our rigging process became wonderful when Michael Regan, Mayor of Northern Beaches Council dropped in to give us a hand, and congratulated us on a wonderful year of sailing and other activities that have strengthened our presence in the Northern Beaches Community.
Other helpers who did not sail were:
Ken Boyes, skipper of Charlie's Chariot,
Observers and helpers dropping buoys Scott, Marcus, Ted, photographer: Maleea.
Left back at Manly Yacht Club producing a delicious lunch Andy, Helen, Colleen and Ted.
It took quite a while to make sure that the rigging on each of our Hansa 303's was perfect for racing conditions, and that the race course was impeccable under the guidance of Race Officer Graeme and assistant, Maz.
As soon as this was complete, competitors:
Denis and Ivan in Woody, Alan and David W in Alex, Jennie and Judy in ING, John and Claire in Black Swan, Sasha and Tony in Dolly Wallis, David G and Oliver in Vin, Michael and Ros in Eli D
took off across the bay to where the course was being set up.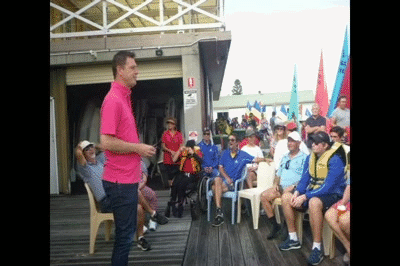 Slideshow of Michael Regan and the work crew at the start of the day, Readying and launching the boats,
Scott lowering the first buoy. View through the mist. Lining up for the start of Race and our place getters :-
3rd place winners, 2nd Place winners and the 1st Place winners.
To see more photos of the day goto https://photos.app.goo.gl/cBscry5deprQzjydA
Three very hard fought races were run, with continual changes of place. Maz carefully collated the results, and the difference in timing over the course were hardly discernible.
The results follow. Please note, in the total point scores, there were four boats who tied in points, 2 on 9, 2 on 14.
Final places were resolved by a countback.
First Place: Sasha and Tony in Dolly Wallis.
Second Place: Dennis and Ivan in Woody.
Third Place: Jennie and Judy in ING
Fourth Pace: John and Claire in Black Swan.
Fifth Place: David G and Oliver in Vin.
Sixth Place: Michael and Ros in Eli D.
Seventh Place: David W and Alan in Alex.
After the racing was complete, all the boats rushed back to the pontoon to be taken out of the water, derigged and washed, ready for the next outing in January. Then lunch, presentation of prizes and lots of chatting and de-briefing. Thanks so much for all of the competitors, helpers on the water, and those on land. A fabulous day for our last sail of 2018.