We only had one group booked in for today, so our group of helpers was limited to 16.
Helpers: Warwick was on the radio, and the time keeper. Jennie, then Brian the Charlie's Chariot Driver. Wilma helping with Life-jackets.
Sailors: Sasha, Ivan, Peter, Michael, Denis, Jim, John B, Peter S, John W.
Helper in Charlie's Chariot: Tamara, Corey.
Registrar Helen, and helper Shelley.
Our very special group from Truscott St School brought helpers: Corinna, Jen, Sumveen, Sheraleee, Kirsten and Sonia.
Our guests for the day were: Tom, Ruby, Jasmine, Annabelle, Harry, Emoor, Zara, James, Jessica, Sion, Syel, Sheibh, Ricky, Manviv, Tyson, Riarna, Jeng-Wei and Alex. All of these children had a long time on the water, sailing, riding on the Support Boat, or just sitting there snacking on morning tea and lunch, and just watching the beautiful scenery. Santa was standing on the patio of one of the buildings right next to the harbour, waving hello to the children as they passed.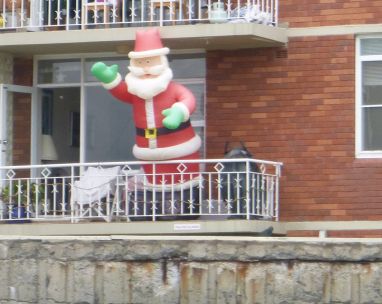 Joining us for today were Judy and Denny from Phoenix, Arizona, and Dennis from Waitara.
It was a lovely way to finish off the year for our Wednesday sailors.