For the first time in many weeks, we had ideal weather conditions for our sailing day today.
Our wonderful crew brought their families along for the ride, while our participants who came from many group homes and activity centres enjoyed the magnificent atmosphere of the day. All were joined together as one group.
Helpers: Warwick, Denis, Brian, Ken, Wilma, Britta, Mal, John, Nikki, Andy, Jim, Maleea, Scott, Ros, Ivan, Helen, Tony, Alan, Michael, and Ian made a fantastic team, changing roles to suit their families, at the same time, retaining the amount of concentration needed to allow the day to run smoothly.
We also had our new crop of Duke of Edinburgh and School Project students with us today, along with Claire, who has finished her project and is still coming to Sailability because she is hooked. Marcus, Wil, James, Luke will make marvellous ambassadors for their schools, and gain a wealth of experience which will stand them in good stead for their future studies and chosen professions.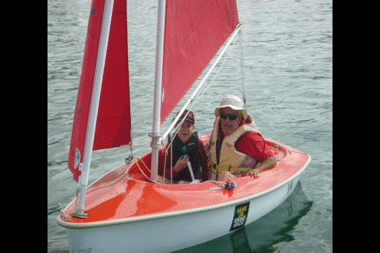 Slideshow of Brian and William in Vin, Andy and Claire in Alex. Marcus and Ivan in Vin, Some gorgeous grandkids in Charlie's Chariot, Michael and Kerri in Eli D, Jim and Ruhanga in Dolly Wallis.
Warwick brought his delightful grandchildren, Beau, Tess, and Finn, Brian brought William, wives, children, grandchildren milled around joining in the fun.
Sailing participants were moving smoothly from boat to deck, to barbecue all morning, everyone enjoying the day.
James, Anna, Kerrie, Ashleigh, another Beau came from Sargood with his mate, Brett. Then Judy, Adonis, Timothy, Hayden, Lashana, Ruhanga, Cheryl, Paulo, Aman, Laura and Barnaby came to top up the day. Some of this last group had to pluck up a great deal of courage to embark, because this was their first time sailing.
A great day, and the start of a tradition that will take place in December each year.