What a perfect morning we had for our Camp Lionheart participants, who stopped off for a sail at Manly on the way to Narrabeen Sport and Rec Camp. They were an absolute delight, and so excited about the coming weekend, which has been carefully organised by Westmead Children's Hospital.
Photo of Eli, doing the morning breifing.
Corena arrived early, and was taken for a sail while we were waiting for the bus to arrive. It was only a few minutes later that the bus arrived from Westmead, and we were able to sort the children into boats which were waiting ready and rigged next to the pontoon. Amelia, Ahmed, Jacob, Riley, Tessi, Baden, Shanaya, Marcus, Milla, Ingrid, Joshua, Christine, Harry, Monique, Shaniqua and Christopher all went for a short, 'getting used to it' sail. Then they came back to the pontoon for a bite to eat, and a drink, and then got to go for another turn if they wanted. Our volunteers were amazed at the ease with which some of them picked up the skills needed to sail. These children will be directed to their local Sailability so that they will be able to have further sailing experiences, once they are back home again. A couple of them decided to be pirates, and were practising their 'Water-Pistol' skills as well.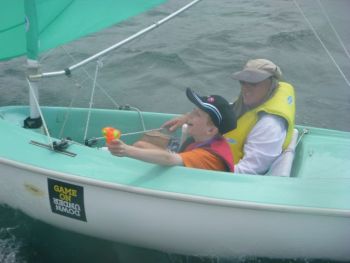 Photo of Jim, taking one of our guests for a sail.
Our team consisted of –
Sailing Coordinator Extraordinaire: Scott.
Pontoon Manager: Nikki.
Support Boat Driver: Jasmin, and mate Laurie, with Observer: John, Photographer: Maleea.
Help up on deck: Helen, Wilma, Tony, Lyn, LingLing.
Help on the pontoon: Ella and Mal.
Sailors: Jim, David, Ivan, Denis, Michael, Helene, Mal, Crosbie.
It didn't take long to put everything away, as the children were very efficiently whisked away in the bus, and the helpers stayed around for a while to put everything away and then partake of an extra delicious sausage sizzle.