What a great team we had today to ensure that our three Monday groups had a wonderful time on the water.
Warwick was the Sailing Coordinator.
Brian the Charlie's Chariot driver.
Jenny the Observer.
Eli the Photographer.
Denis put all of the boats together carefully, noting details of items to be fixed.
Sailors: Ragnhild, John P and John B, Ivan, Jim, Michael.
Pontoon Manager, Malcolm.
Radio officer and Time-Keeper: Corey.
Registrar: Helen
Extra hands on deck and the pontoon: Jackie, Peter.
A small time, but ultra efficient to make the day run smoothly.
The boats made a beautiful sight as they were rigged in their brand new Invictus Sails and set off acroos Manly Cove with the students from Freshwater High: Malena, Danny and Emma.
JARBEL from Sunnyfield arrived next, so that Jocelyn took her place in Charlie's Chariot to supervise Adonis, Rodney, Ben, Emily, Luke. It is wonderful that this group is now coming early to fill the gap between Freshwater and BIRDS.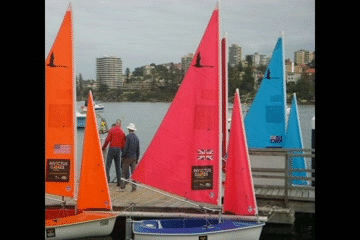 Slideshow of our smart looking new sails, Emily and Raghnild in Black Swan, Rodney and Michael in Vin, John B and Alan in Vin.
Our large group from BIRDS arrived with helper Bella. Brad, Stuart, Danielle, Alan, Catherine, Jimmy, Carlo, Patrick, May, Steve all went for a sail, while Carlo sat in Charlie's Chariot and supervised from a height.
Damage caused during the Invictus break will all be fixed by next week, thanks to excellent work by Denis, Malcolm, David W and the crew.
We will be welcoming Judith back to Sailability within the next couple of weeks, so will do the run up to Toronto to pick up her servo 2.3 and get it modified back so that she can use it.
We also welcome Alan back to sailing now that he is independent in a chair, rather than being forced to drive his car and find parking. Also, welcome back to Byron, who has been away for a while, and now back with us, in his new, slimmer shape.