Our fabulous team today consisted of 17 very willing helpers:
Sailing Coordinator: David/Eli
Pontoon Manager: Mal
Support Boat Driver: Warwick
Observer: Jenni
Photographer: Ken
Registrar: Helen
Radio: Corey
Time Keeper: Ray
Help on deck and pontoon: Tara (the absolute double energy charged, split both jobs and managed both admirably).
Help on Pontoon: Marc
Sailors: Michael, Denis, Ted, John, David, Mal.
The decision to go ahead with sailing today was a difficult one. Owing to the breeze, which was right on our top limit, the excellence of all of our sailors, the agility of our participants, and the creation of a new 'warm-clothes' container, we took the risk. Everyone had a great time, plucking up courage in the developing swell, and reaching new heights in performance.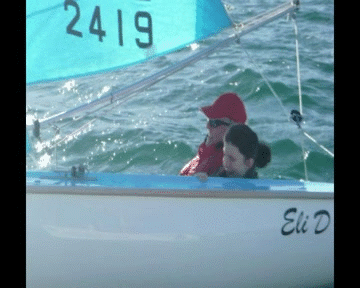 Slideshow of Emma and John in Eli D, Danny and Ted in Vin, Malena and Michael in Alex, David and Tara sharing a joke in Black Swan, Steve and Michael in Alex, Jimmy and Denis in Woody.
Malena, Danny and Emma from Freshwater are learning a lot about our boats, got wet without a complaint, and all had huge smiles all over their faces when they returned.
Ben, Luke, Rodney and Adonis all calmly climbed in to boats without a single pull back and stayed out there for well over half an hour while we waited for the BIRDS to arrive. Not a complaint, not a request for the support boat, and again, the huge smiles were a feature and a sign of enjoyment.
BIRDS arrived in dribs and drabs. First to go out was Stephen, and last to return, after a quick trip overseas. Carlo decided to return after just a few minutes because it was too rough for him, then Stuart, Brad, Alan, Jimmy and Patrick hopped into the returning boats and had a great time negotiating the waves. Some were lucky enough to catch sight of the seal that has made its home a small section of North Harbour. Unfortunately, we were not fast enough to get a photo.