Have we been stupendously lucky with the weather? This morning was perfect!!! Blue skies, a soft Nor Easterly blowing, and a wonderful group of friends to sail with. On top of this, Wilma brought some delicious slice to make the day run smoothly.
Royal Far West could only round up Gemma and Anthony, so they started with a quick run around the bay in Charlie's Chariot, and when that was done, jumped into a sailing dinghy. In the meantime, a new sailor for us, Elyce who lives in Queensland and is down in Manly on holiday arrived with her Grandpop, Malcolm. While Elyce was sailing, Malcolm was taking photos from Charlie's Chariot.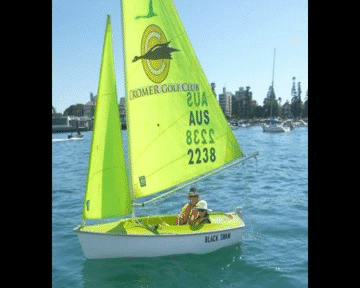 Slideshow of Elyce and Denis in Black Swan, Rob and James in ING,
Steve and Anthony in Alex, Bart and Corey in Charlie's Chariot, Eddy and John in Woody
James, Eddie, Nathaniel, Laraugh and Jasper arrived next, from Fisher Rd School with teacher Rebecca. They were carefully helped into the sailing boats and off they went. Our mates from Sunnyfield French's Forest arrived next, with helpers Danny and Jess. Rodney, Luke, Adonis, Ben had a sail, as well as a ride on Charlie's Chariot for Rodney and Ben, and then our friendly SEALS arrived. Allistair, Tom, Zoe, Doug, Sarah, Bart, Adam, and the lovely Jake, with helper, Olivia all chose to sail first, and went off in whatever boat was available.
Fiona, another new sailor for us arrived next, with helper Hannah. Because this is her first go, Fiona just drank in the atmosphere and enjoyed the sail. Next time, she promises she will be in there with the hands on the joy-stick, going where she wants to go, within reason, and hopefully at some stage be able to take over the sailing.
Paul and Stefan came down with Julie and Alex, and we want to thank these last two for the great help they gave our volunteers.
Our team for today was:
Sailing Coordinator, Helene.
Sailors: Rob, Ivan, David W, Denis, Peter, Warwick, Steve, John W, Jim, Michael.
Registrar, Helen. Life-jackets: Wilma, Radio and Time-keeper: Ken, then Ivan.
Power Boat Driver Extra-ordinaire: Allison with helper Corey.
Ling Ling help up on deck.
Lots of help on the pontoon from David W, Jim, Michael when they were not sailing.