We have had such wonderful Sailing Days lately. The weather has been perfect for us, and today was no exception. Freshwater High were the lucky students who came down early and just kept sailing until BIRDS and BeeCosWeCare arrived more than an hour later. The water was beautifully smooth to sail on, with a very slight, steady North Easterly breeze, just enough to keep the boats moving while practising the words they needed to remember to gain their end of year certificates this morning. Malena, Danny, Emma and Leah worked hard for their awards, and came back feeling that they had done a good day's work.
BIRDS' Steve arrived and got onto the water before the rest of his group arrived. Patrick, Denise, the 2 Alans, Brad, James, Danielle, Katharine, Stuart and Carlo also received their certificates this morning, and were very happy with their results. Denise wins our prize for outstanding courage this morning, as she plucked up courage to go for a sail, a first time for her after many trials during the year, and this morning, she did it. Danielle took off solo, Patrick and Steve took over the controls of the boat and all came back with huge smiles.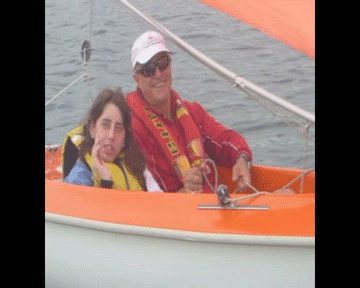 Our new group, BeeCosWeCare waited patiently for their turn, and at last, they were ready for a sail or a ride in Charlie's Chariot. Jayden, Daniel, Paul, Jael chose a sailing boat, Steve, Holly, Jess chose Charlie's Chariot. A great day's sailing. Thanks to all the helpers for these groups, who made life very easy for our team by helping with their people.
This morning our team was:
Sailing Coordinator: Eli.
Power Boat Drivers: Warwick, Mal.
Observers: Ken, Siobhan, Corey.
Sailors: Warwick, John, Jim, Ivan, Michael, Mal, Jennie, Denis.
Pontoon Manager: Malcolm.
Helpers on the pontoon: Khadup, Jennie.
Radio/Time Keeper: Corey.
Registrar: Helen.
Life-jackets: Wilma
Photography: Siobhan, Ken.