Time Keeper and radio, Ray.
Life-jackets, Wilma.
Registrar, Helen.
Power Boat Driver, John, then David W.
Observer, Ken, then Corey.
Photographers Indiana, Ken.
Sailors; Ivan, Jim, Peter, David W, John, Malcolm, Denis, Michael, Helene.
Help on the Pontoon; Marc, Kath.
Help up on deck: Tony, Corey.
To help getting the boats away at the end of the day, the team was very happy with the exceptional help from Tony.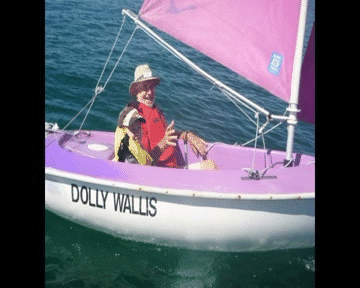 Craig and Jenny from Royal Far West brought Chaney, Ryan, Patrick, Elizabeth, Hunter and Noah. They came from far and wide to enjoy the beautiful calm water of Manly Cove, including Young and Nyngan.
Zac, a first time sailor arrived with Daniel. To help Zac's confidence, we sent Daniel out in a sailing boat right next to him, but we needn't have worried, once he found he could drag his hands in the water and splash his sailor, Zac was in his element, and enjoyed every moment of his sail.
Kel from Royal Re-hab brought a new sailor for us, Steve. Quote from Steve when he disembarked…."Wow, that was the best day in my whole life."
Araluen (Achieve) with helper Irene brought us a beautiful group: Cameron, Maria, Paul, William and Stuart. They all had a sail. A new group for us, we hope they come again..
Then St Ives Unisson, with Colin brought John, who loves going for a ride in Charlie's Chariot and disdains sailing, as well as Elias and Lisa, who went for an enjoyable sail.
Last group for the day was Choose and Connect. Jinan and Laura brought this delightful group with Mathew, Shannon, Chris and Rodney.
A great team today, and a wonderful group of participants.