Early morning phone calls and Weather Channel checks were not a great deal of use this morning. The forecast kept up a high wind prophecy, but we could see a drop off in wind strength and decided to go for it. What a fabulous decision for 30 participants and their 18 helpers.
Our team of helpers this morning was: Amazing Sailing Coordination by Warwick;
Extraordinary Pontoon Managing by Col;
Super Power Boat Driving by newly licensed Allison; photographed by John, observed by Corey.
Registered by Helen, timed by Ray, our participants life-jacketed by Tony;
Helped on the pontoon by Michael and Marc.
Our sailors were Jim, Rob, Malcolm, Ivan, Michael, Denis, David W.
David G made a late appearance as repair technician for some boats that were awaiting maintenance.
A huge, enormous Thank You to Col who is about to leave the team after close to 5 years.
We started the morning with the students of Dee Why Special class, with toys in the boats to keep it interesting. These lucky guys got a sail as well as a ride in Charlie's Chariot, as the next group was a little late.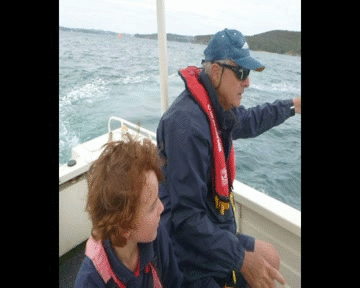 Dylan plucked up the courage to hop back on the boat after his wet experience last time. Then Oliver, Felix, Soraya, Sienna, Mia, Melissa, Oliver, Jayden, Lachlan, Jecobi, Jed, Karaen, Lowanna, Isaac, Samuel. What a lovely group to work with, thanks to their teachers Carmel and Ms Murphy. Some of these will be off to High Scholl next year, so it was a little sad for Dylan, Isaac, Samuel, Oliver, but they made up for this by having lots of fun today.
Bee Cos We Care arrived next with helpers Renee and David.  Jess, Steve, Jack, Holly, Chelsea, Paul and Jayden had a great morning on the water.
Then Sunshine Pymble arrived with John. On the water we had Charley, Brendan, Stephen, Toby, Annabelle, Rob and James. What a great morning, just imagine how sad everyone would have been if we had decided to cancel.