Sizzling in the sense that incredible things were happening all day, making it a very exciting day both for Participants and Volunteers, as well as their carers.
First of all, we started in the usual way, by putting boats out and collecting Charlie's Chariot. Not a breath of engine/battery could be heard, so we asked the ever obliging Chris to tow Charlie's Chariot across to the pontoon so that we could figure out what to do. When we tried to start it again, it was obvious that we needed to kick start the battery, or do an instant recharge, or borrow a different battery before we could get any of the sailing boats in the water with our participant sailors. Tried to kickstart with an ordinary car-battery, didn't work, got a friend to put it on a trickle charge, borrowed a battery from one of the other MYC boats, which took an age because it was in a very awkward spot in the boat. Finally we were able to get started. Ben, James, Judy and Phillip went out, and our new volunteers, Indiana, Maleea Scott went out for a sailing practice.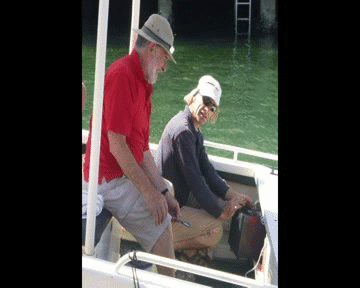 Washington House (Anna and Kerrie) and 14 friends from Lorikeets arrived and were quickly sorted into boats.
Jess, Benson, Tom, Muthia, Layla, Jae, James, Luke, Xavier, Michael, Sam, Saskia, Jasper, Zac, were the kids. Some bright spark invented a new game of throw, catch, bat and splash, using a ball found floating in the water. It threw a whole new atmosphere into the sailing, giving the kids enormous fun, getting everyone deliciously wet in the process. We'll definitely repeat that one in the future.
Then the day quietened down a little while we waited for the last group, Waitara After Hours. They were well-named today, as we should have been packing up by the time they arrived, but we went ahead anyway, as they had been sitting in the van for so long, we felt that they definitely deserved a sail. Andrew and Nicholas went in sailing boats, but Anh requested a ride in Charlie's Chariot.
By the time these boats arrived back, the Manly Juniors were there with their huge variety of boats, and we all had a lesson in cooperation as we fitted the battery back into Nigel Holman, and put our boats away while the Juniors Dads and Kids were getting their's out. Every square centimetre of space on the deck was taken up with kids, parents, riggings, extraneous bags, the barbecue being cleaned, and a hundred other things going on, so it was indeed a sizzling day.
Many thanks to Leigh, who was a great help today, and to Alan, who came out for the fresh air and helped Ray with the Time Keeping. The rest of our team was the wonderful Caroline who took on the very busy role of Sailing Coordinator, David, whose job it was to figure out all of the folderols about exchanging and replacing batteries, and what he is going to do on Sunday so that we will be OK to sail on Monday, photographer, Ken then Maleea, Power Boat Driver; Warwick, then Peter, chef, Juliette, Time keeper Ray, Helping on the pontoon Ros, John, Jim, Scott, sailors: Mal, David G, David W, Ivan, Jim G, David P, Peter, Denis, Michael. A great team today.
Thanks also Manly Juniors for your huge hearts in understanding our need for a battery, and the length of time it took to put back in Nigel Holman.
I think we deserve 3 huge cheers for today's efforts.