The ideal Winter weather invited the keen Monday team of volunteers down to Manly Sailability this morning to help our 2 Monday groups with their sailing.
Freshwater High arrived in two groups. Lucy, Leah and Danny in the first group, then Malena and Steven a little later. Even though a little hesitant in the strong westerly, these students are learning how the boats work, and increasing their stamina on the water while making an attempt to steer.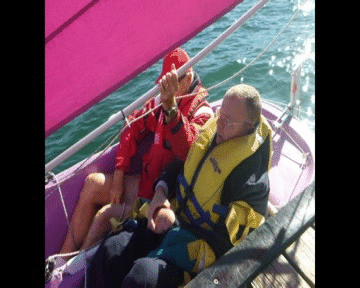 BIRDS did a fabulous job of arriving early this morning. Steve, Stuart, Alan, May, Brad, Danielle, Kathryn, Kris, Patrick and Dianne were there before the Freshwater students had finished and settled themselves into the sun with a cup of tea and a biscuit to wait their turn. Seeing that the weather was quite cool, and that the breeze was quite strong on the water, not everyone sailed. May and Alan opted for a ride on Charlie's Chariot; Steve, Stuart, Brad, Kris, Patrick went for a sail, Kathryn, Danielle, Dianne sat in the sun and watched while they chatted.
Luck was in for those on the water: a pod of dolphins appeared in the centre of the bay and kept everyone amused and delighted by their antics until finally they disappeared just in time for everyone to return to the pontoon.
David G was there with his tools to fix that pesky hinge on the locker, so this job was carried out in double quick time, while Denis and Jay went to pick up fuel for our next foray on the water coming up in a few days from now.
Our fabulous team for today was:
Sailing Coordinator: John W,
Pontoon Manager: John P,
Boat Operations Manager: Denis,
Charlie's Chariot Driver: Warwick, Observer and Photographer: Ken,
Sailors: Ivan, Jay, Jennie, Denis, Col, David W, David G, John, W, Michael.
Helping on the deck were Helen, Registrar and Wilma, Life-jackets.
Helping on the pontoon: Malcolm, Col and the carers of BIRDS.