This was our last regular sailing day for Sailability Manly for this year, so Helen brought down a wonderful selection of Christmassy food so that our participants, volunteers and guests could nibble their way through the whole day. Apples, chocolates, chips and nibblies complemented the fabulous sausage sizzle cooked by Juliette.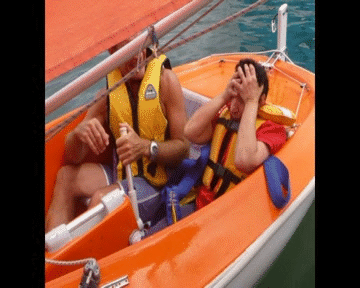 There was sailing going on as well, giving a unique experience to Richard, who sailed solo for the first time in Clea. Poor Alan had to be red-flagged for the first time in his life, spoiling a magnificent sailing experience by being called back to the pontoon so that we could change sailors. Megan had her sail, then Juliet, Paul, Ashley, Anna, Kerri from Washington House with helper Russell; new members Matthew and Rachael came down with helper Georgia, then Daniel sailed. Daniel announced proudly that today was his 110th day without a cigarette, congratulations Danny.
Judy was next, with Rita, then Vanessa, Jonathon, Sam, Matt with their assorted helpers. Last of all, our new Young Sailors arrived. Olivia was the official helper for this group, very ably supported by Elyce. Maggie, Lucas, James, Zae, and Sam had their turn sailing, then back up to the deck to finish off the food.
Our wonderful helpers today were: Ray, Ken, Denis, Jim, John, Wilma, Tony, Helen, Peter, Juliette, Ivan, David W and David G, Jackie, Josh, Vince, Jack and Michael. Thanks so much to these people, it made for a lovely day to see the cooperation within our group.