We had a great morning at Sailability this morning, with a lovely muffin morning tea. Our last Wednesday sailing for 2016 had the best crew ever, and the best participants. We all deserve a huge 'pat on the back' for a busy year, and the efficiency with common sense that was on display today. The weather was FANTASTIC. A mild South Westerly, enough cloud cover to make us comfortable, with the sun shining through every so often, and lovely people to keep everything moving through a very busy morning.
Our crew today was: Pontoon Manager: Brian
Registrar: Helen.  Life-jackets Wilma.
Support Boat Driver: Warwick with observer, Alison. Then John with observer: Corey.
Photographer: Di.
Helping on the pontoon: Michael, John P.
Helping on deck: Tony, Marc, Denis, David.
Sailors: John B, Col, Rob, Ivan, Jim, Steve, Malcolm.
We started the morning nice and early with the gang from Royal Far West: Tyson, William, Thomas, Stephanie, Nathan, with helpers Jenny and Craig. A lovely group, some of whom were lucky enough to get a ride on Charlie's Chariot when all was quiet.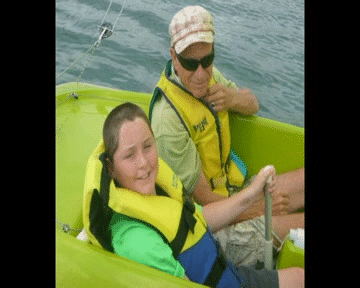 The Christmas Picnic Group from Truscott St slowly started trickling in with parents accompanying Maria Carmela, Liam, Harry, Syu. These were all taken for a sail. Then Ben arrived to be dropped straight into his solo sail and freedom at last as he sailed into the wide blue yonder that is Manly Cove. It was about an hour later that he returned to the pontoon with the largest smile on his face.
By this time, the first Truscott St bus had arrived with Samantha, Jessica, Maggie, Ruby, Rizwan, Alex, Sion, with helper Corinna. Ruby tried out the new seat, and was pleasantly surprised by the comfort achieved. A whole new way of looking at the world.
Steve from Freshtracks arrived and joined as a member with brother Pete. He had a most enjoyable sail and will be back for more next year.
The second Truscott St bus arrived with helper Carrie, and students: Ethan, Annabelle, Riana, Jazmine, Ricky, Yu Yu. Most of this group have been sailing a few times, so are well up with the routing of waiting a while, then donning life-jackets and joining us on the water.
Our last group, from HWNS, arrived, patiently waited until the Truscott St Kids had finished their sailing, then calmly got into their life-jackets to finish a hectic morning. Stefan, David, Tiara, Paul, Mikey, Denis and Philip. Thanks so much to the helpers of this group this morning: Sandy, Steph, Sonja, Emma, Justine, Sarah, Peter. Everything was very well done to make life easier for our volunteers.