This morning's weather forecast left many doubts, but we decided that a little rain and not much wind would not be too much of a barrier, so decided to go ahead. The forecast was almost 100% correct, the rain stopped at around 10.30, and the breeze came up to a very steady northerly 5 to 7 knots, making the conditions beautiful for us.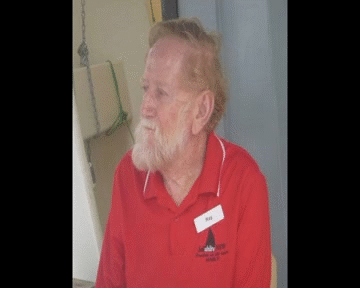 Helpers this morning were Barry, as Sailing Coordinator, David W and Denis doing the Boat Operations Manager role, David G the Pontoon Manager, Helen as registrar, Ray as Time-keeper, sailors Helene, Ivan, Cathy, David W, Vince, David G and Jay. Peter and Juliette shared the Support Boat Driver role, with Ken as observer.
Kevin was invaluable helping on the pontoon with Jim Q, and most of the carers were useful in finding the correct sized PFD for their own charges. We had a new helper today, Kate, who had a couple of sailing lessons today.
Our first group of participants this morning came from Rap'n'Rave. They were forced to sit a nd wait for a few minutes while they had a drink and biscuit because of the rain and lack of wind, but as soon as the sun came out, and the wind arose, they were out there having lots of fun on the water. Julie, Natalie, Luke, Lisa, Jason, David and Kathryn were easy participants, very amenable to suggestions, and really enjoying their first sail.
Judy sat in the boat with Ivan and buried herself in the collar of her PFD, while enjoying the light floating feeling.
We got the 2.3 with the special seating arrangement out for Patrick, as we have discovered that he can use the joy-stick and the sail ropes, even though not necessarily at the same time. Mum, Roisin followed him around in the Support Boat, with David W also following in a 303 to give him advice as to wind direction and sailing skills.
Mattie arrived next with his helper and lost no time in getting into the next available boat.
Jonah nonchalantly walked into the sailing area, straight to the pontoon with no fuss, and stepped into the boat that was waiting with David, who has taken him before. What a wonderful relief!!!! It was not until he noticed Dad watching from the side, about half an hour later that he decided it was time to get out of the boat.
Gerald arrived next, then Diane, Jackie and Duncan from The Housing Connection. These young people enjoyed their ride in the support boat so much that we decided that they may make bookings a little more frequently.