This weekend, Sailability NSW celebrates its 20th anniversary with a regatta and gala lunch.
In fact, the organization was established in December 1995, but due to a busy 2015 sailing season, the celebrations have been held over. On Saturday 27th   February, there is an Anniversary President's Cup regatta, held at Dobroyd Aquatic Club and on Sunday 28th, a 20th Anniversary lunch.
Sailability NSW started as a committee of Yachting NSW) chaired by yachtie/wheelie Denis Critchley. Sailing commenced in early 1995 at Gosford. In May 1995, Dr Phil Vardy, Neil Anderson, Paul Tayler and Chris Mitchell organised a 'Come & Try' day at Dobroyd Aquatic Club in Sydney. Jackie Kay brought a group from her work at North Ryde Rehabilitation centre.
On December 21, 1995, Sailability NSW was incorporated as an association with Sailability Gosford and Dobroyd the first branches.   In 1996, Neil Anderson became the second Sailability NSW President. (Neil today is Chair of the National Sailability Committee of Yachting Australia.)
By end of 1996, Sailability NSW had spread to North Sydney (now Manly), Pittwater, Illawarra, Narooma, Belmont, Albury, Northern Rivers and Middle Harbour.  There are now 27 Sailability programs in the state, making NSW the largest Sailability organization in Australia.
In 1995, global solo sailor David Adams became Patron (now Paralympic sailor Liesel Tesch). The late Bluey (Ian Ryan) and Greg Mott sailed an electric Access 2.3 by themselves.   In 2000, Nava George was the first ventilated quad in the world to sail solo (in an Access 303 on Sydney Harbour.
Other highlights: the 10 year celebration of SNSW at Rushcutters Bay in 2005, Sailability wheelie Lindsay Dalmon  being awarded YA's Disabled Sailor of the Year, launch of the Access (now Hansa)  303 in '98 and Liberty in 2004. There was the first state conference in 2007. In 2011 Ame Barnbrook received the Sir Roden Cutler Award for outstanding sporting ability.
But, according to John Price, President of Sailability NSW, the most meaningful developments have not been the ones that made news, but the steady improvements at the grass roots.  "We have gone through a period of rapid growth, which has caused some problems with issues of governance, so we have tightened up our conditions of entry into the Sailability family.
"Growth has been solid in regional NSW and over recent years, we have achieved a good balance between physically and intellectually disabled sailors. Sailability is for everyone!"
Sailability NSW is part of Sailability Australia, comprising seven state or territory Sailability Associations and some 76 programs. Australian sailors with disabilities are represented nationally by delegates on Yachting Australia's National Sailability Committee (nominated by State yachting Associations).  Sailability Australia is part of Sailability World.
Issued by Graeme Adam, PR, National Sailability Committee of Yachting Australia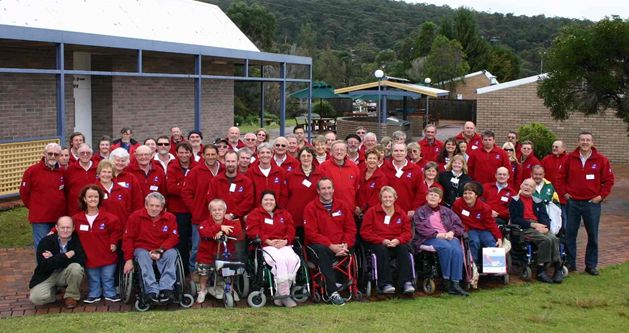 2007 marked the first Sailability NSW conference. In the crowd of volunteers and sailors at NSW Academy of Sport were John Price (top left rear) now NSW president, Grahme Rayner (red wheelchair), then NSW president, with Kelly-Anne Oriel to his right and Sailability World secretary Jackie Kay to his left with veteran sailors Maria Dalmon, Wendy Evans and Lindsay Dalmon. SNSW "legends" Paul Tayler, Elizabeth Atkin, Allan Jones and Neil Anderson are behind Grahme. Dr Phil Vardy is front, third from right. Hansa founder Chris Mitchell far left, Graeme Adam, Sailability Australia committee member far right.