They say that the busiest days are the best days, and this was the perfect example.
Ralph, Warwick, Ken and Barry arrived early for a lesson in management of the dinghy when picking up Charlie's Chariot, and the rest of the team dribbled in slowly to set up 7 303's as we were expecting over 40 sailors today. With the sun shining, the sky an amazing blue, and a pleasant 6 to 10 knot North Westerly, there would sure to be a few extras who just decided to come down to Manly for a sail.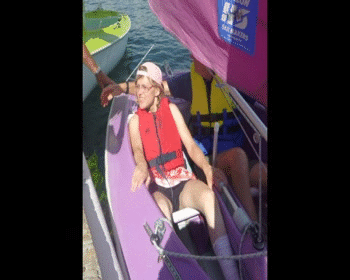 Brian was the Sailing Coordinator, so he also arrived early, with David W, Philip, Alison, new volunteer Di, Ray, Helen, Jim G, Colin, John P and John B, and a volunteer we have not seen for a long time, Corey, who looked like the cat who has swallowed a canary all day, he was so ecstatic to be back. Bob arrived, then Jim Q, Sheila, Jay, Marc, Michael, Malcolm, Peter, and Helene. The boats were quickly rigged, checked by our Boat Operations Manager; Denis, then launched by our Pontoon Manager, Malcolm and the helpers who were close.
Time for a quick briefing, then our first group, from RFW appeared. James, Adrian, Jayden, Patrick, Byron, Gemma and Bec quickly sailed away with the most sublime smiles. Some of these children have never seen a stretch of water larger than a dam before, but all plucked up the courage. Byron thanked his sailor profusely for taking him out and letting him 'have a go'.
The families from Truscott St who live close enough to Manly to drive over started to arrive, and we got them straight out on the water. Syel and Liam.
A small SEALS group arrived…Doug, Zoe, Tom and Elias. It was a joy to see Tom making the decision to sail this morning. It has been many visits that he has sat on the side and watched, unable to pluck up the courage, but today he made it, and really enjoyed the experience.
More students from Truscott St next enabling Maggie and Nikita to sail.
It's a long time since we saw Gerard with helper Patrick. The enthusiasm of both of these young men is contagious as we see the pleasure they experience on the water.
Soon, Oliver, Leesa and John from St Ives Sunshine arrived, with Oliver electing to stay on the side, the others hurrying into the next boat that came in.
Lynette and Bill arrived, kindly deciding to wait until all of the children from Truscott St, who arrived in a bus-load had had their on-water experience.
Our deck and pontoon staff were really rushed off their feet now, with a constant turnover of people on boats, their helpers, parents, and other staff trying to grab a photo, as well as the extra work engendered by fitting car-seats securely into boats, using hoists, harnesses and seat belts to position children safely and comfortably. Our rewards are the delightful smiles, or the child asleep in to the sailor's side, the high-fives and cheers, and Annabelle's cry of Aye Aye skipper, and I'm Captain Annabelle when she brought the boat into the pontoon. It was such a pleasure to take: Tsz Uu, Jessica, Samantha, Sian, Ethan, Ricky, Jazmine, Annabelle, Riarna, James, Ruby, Tom, Alex, Harry out on the water and watch the grins light up their faces.
When these had finished, Lynette and Bill took off, and we accommodated Ashleigh, Hannah and Gary from French's Forest, before our Forest High School group Sam, Jayden, Jackson, Ruby Luke and Ben went out for their lesson. Next time, this group will come early so there will not be any waiting around for them.
It didn't take long to get everything washed, packed up and put away, ready for next Sailing Day. Thanks very much to all the helpers and volunteers.