This morning the weather was totally welcoming to sailing, and we welcomed some of our regular groups to Sailability. Early to arrive were our helpers, Sailing Coordinator; John, Boat Operations Manager; Denis, Registrar; Helen, Life-jackets, Wilma, Pontoon Manager, Col, Support Boat Operator; Rob, then Barry; Radio and Time Keeper, Corey and Tony, Sailors: Ivan, Denis, David G, David W, Bob, Steve, Michael, and extra helpers; Kath, Marc, John P, Photographer; Ken.
This all made for a beautiful sailing day for Royal Far West: Neta, who was determined to sail for New Zealand, and would have made it, too if the wind had not died completely, forcing her to come back before she got out of area.  Aidan, Ethan, Charlie, Brianna, O'Shera, Andrea as well as Teacher Craig sailed around for almost an hour before they returned to the pontoon because of the arrival of Stephen from Freshwater High, then Dominique, Evie, Anna, Gary from Sunshine French's Forest, then Ben, An, Joseph, Robbie and Lizzie from Waitara Wonders.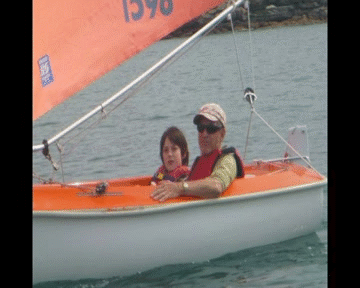 Between all of these, Ben from Royal Rehab came down with his O.T., Lisa. On only his 3rd solo sailing, it was quite amazing to see Ben confidently steering using the joy-stick, then swapping hands for a moment while he adjusted the sails, then re-grabbed the joy-stick to turn around the buoy to come back to the pontoon, all the while managing that swap over for the 30 minutes or so it took him to sail back home again. A wonderful experience for Ben, as well as for everyone watching. This is the Freedom we are aiming for.