What a busy morning we had this morning. Forecasting the wind strength for the morning proved a challenge, as there were gusts going well above the forecast rate, with calming intervals between. 5 of our volunteers started the day by going out to look for the best place to sail, some taking out a less confident sailor for some heavier wind practise. Warwick was in charge of the day with Malcolm on the pontoon. We only took 5 Hansas out, so that only the more experienced sailors were out there with our participants. Everyone helped put the boats out, then John P took Woody, Brian took Dolly Wallis, Michael took Ralph Newman, John W took Eli D, and John B took Black Swan, some furled a couple of turns, some with a full sail.
Helen was the registrar, Wilma the Life-jacket/Harness lady, Corey doing an excellent job with the radios. Ragnhild arrived a little later and helped on the pontoon. Jim took Charlie's Chariot, with Jennie on photo duty.
We had some wonderful participants this morning, most taking pleasure in the wet conditions, and enjoyed coming back for the drying session in the sun.
Olivia, brought the Seals: Bart, Allan, Elyce, Jake and Zoe.
Sunnyfield with Glenn, Vicki and Barbara brought Vanessa, Kane, Glenn, Dave Tamara, Sue, Peter.
Assif brought Hanlin, who loves his sailing. Later on, Ben arrived with Dad, Peter, and then Zoe arrived from Sahara with her helper, Sally.
All had a great sail and came home with that excited smile we have come to expect.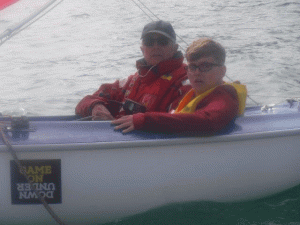 John and Elyce in Woody
Brian struggling through the waves in Dolly Wallis
Jennie and John in Eli D