What a fantastic Wednesday, the sky was blue, the sun was shining, the wind was firm and constant, and our helpers were fantastic:
Thanks so much to Caroline who took over the role of Sailing Coordinator with aplomb,
Brian on Charlie's Chariot,
Ken taking photos,
Helen doing registrations and taking temperatures,
Wilma our life-jacket guru,
Malcolm on pontoon duties, with help from Eileen,
Corey on the radio,
John W who arrived later and helped with everything,
David G. who gave a hand with the radio, and then went to work elsewhere,
And David W, who arrived very late, and tested the radio.
Sailors: Denis, Rob, Michael, John P and John B, Jennie.
What a great team, greatly appreciated by:
William, Angel and Brock from Royal Far West with helpers Craig and Jenny.
Jack with Keira from Ability Options.
Ben and Peter Baines.
Michael and Jillian with Jacob from Sargood.
Andrew and Thomas Conlon from Catholic-Care.
Hanlin with Adelyne and Ashief.
Sally and Simone from Catholic-Care with Zoe, Jake, Bart, Allan, Zac, Georgie. We welcome this group back after a long hiatus. They had a great time today, and will be back on the last Monday of each month, and really looking forward to this excitement.
The day finished with a quick hose down, clean up, pack away, thanks so much to those who heled with this.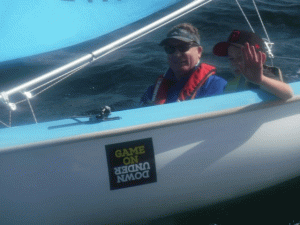 Rob & Will in Eli D
Ben and John in Black Swan
Jack in Ralph Newman
Michael and Rob in Eli D
Jennie and Jillian in Alex
Zoe and John B in Vin