Sailability Manly sent a great team to Port Macquarie for the conference in August.
The conference was divided into 2 sections: From Thursday, 1st August there was a Power Boat Training session specifically aimed at Sailability experiences on the water held at McInherney Park at Port Macquarie. Kern Boyes was our representative from Manly for this section of the conference, and he has come back with lots of hints, comments, and suggestions about our Support Boat Procedures here at Manly.
The second section started at Manly, with packing the boats we were going to use for the conference onto the trailer on the Thursday, before driving up on Friday. Thanks so much to John W and his son Ben, Michael, Denis for this part of the procedures. Denis, Michael, Warwick, Judith and Natalie drove up either on Friday or Saturday to take part in the sailing at Port Macquarie, as well as more formal conference procedures.
Friday evening we met Kylie Forth for the first time, a most articulate and exciting personality with incredible communication skills, as well as sailing skills which we found out the next day. Kylie is completely blind, and has one leg. She is the captain of the current World Sailing Team, and readying her team for the next Blind Sailing Titles to take place in Canada in September.
Our own Judith, also was a shining light on Saturday, showing off her sailing skills in the servo, Alan Wood, where she was having fun fighting tide, river flow and westerly wind, then sailing blithely back, only to do it all again.
The conference was not only for fun, however, and there were sessions on issues within the branches, training in skills needed to sail as well as the skills needed to run our sailing days. Also lots of time spent in discussing the use of Regattas to encourage our sailors, and Training to Sail Better.
Michael has come home with lots of information to pass on to Alan, Helen and Scott about using the Sailability NSW website to record Membership, change the Manly Page on this web-site, and use the website for bi-monthly reporting.
Most meals were provided to delegates over the 3 days of conferencing, and accommodation was judged to be perfect for the situation. A quick drive home on the Sunday afternoon was most appreciated.
Last of all was the unpacking of the boats on Monday morning. A huge thank you to Warwick, who towed the boats up and back, took Ivan and Eli up and back, as well as pickups and deliveries to the venue when necessary.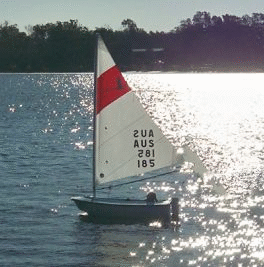 Judith, sailing on the Hastings River
Some of the conference delegates
Ken on the Power Boat Course