What a great morning on the water. Winter sailing is fantastic!! Our fabulous volunteer team arrived early to put out enough boats for the groups coming sailing this morning: Freshwater High, JARRBEL and BIRDS.
The Sailing Coordinator from Heaven: Tara kept everyone and all boats in line, didn't let anyone stray from the straight and narrow.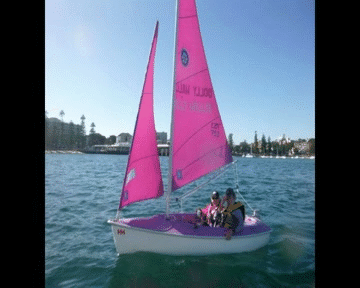 Slideshow of Alan P and John B in Dolly Wallis, Brad and David in Black Swan,
John in Dolly Wallis and Patrick then Warwick and Peter in ING.
Pontoon Manager: Jennie, with lots of changes as the day progressed, and lots of willing hands on the pontoon.
Support Boat driver; Warwick then John W and observers sharing for the morning.
Sailors: Brian, Malcolm, Ivan, Denis, John B, Ted, John P, David, Michael, Peter, John W and Warwick. Plenty of opportunities to change as the morning wore on.
Ray was the Time Keeper, Corey on the radio, Helen was the registrar, spare sailors were helping with Life-jackets, harnesses, etc.
Our beautiful participants this morning were Emma, Malena and Danny from Freshwater, fighting off the cool early morning breeze with hats and jackets. Helpers with this group are Alicia and Shirley.
Then: Peter, Steve, Stuart, Patrick, 2 Alans, Carlo, Brad and solo sailor Danielle from BIRDS with helper Jennie instead of Gaynor.
Slotting in with this group, we had JARRBEL from French's Forest, with Ben, Emily, Adonis, Vanessa, Rodney, and Rebecca. Helpers for this group are Mischa and Regina.