A perfect day for a sailing day, but not a breath of breeze. Our crew took Pam and Bruce over to pick up Carlysle and took the buoys to place for the race to start.
Then we waited, and waited, until at last, the wind came up and Bruce sent us a message to send the boats out.
It was a slightly more complicated course than we are used to , but all of the skippers coped with this, and the race was very closely competed, with several new skippers for this race. Caroline was with Tamara, Eli with Samantha, Alyse with Tara, Maleea with Nilkki, Catherine with Ros.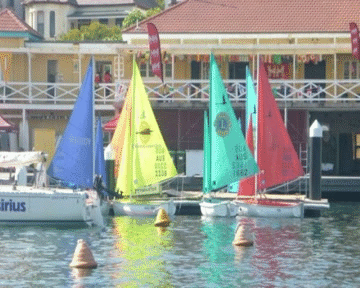 Slideshow of the boats ready, the race. Winners are grinners, (Eli D Blue) Alyse and Tara,
Second place. (Red, Catherine and Ros) and 3rd Place.  (Green, Caroline and Tamara).
After many changes of leaders, and people pushing through the course, we ended with a wonderful result:
1st Place: Alyse and Tara,
Second Place: Catherine and Ros,
Third place: Caroline and Tamara.
Our crew for today was : David W and David G in Charlies Chariot; Ken taking photos; Denis and Michael helping with rigging; Ivan, John and Marc helping on the pontoon; Julian and Samantha picked up the lunch and Mitchell and Ann helped to serve it out; Scott had a lonely job sitting on the radio.
A huge thanks to all of these people who helped make the day such a huge success, and a ginormous THANK YOU to Bruce and Pam, the race officers, and to Ken for his extra hard work in driving and setting up the day.
So sorry that Jackie and Judy missed out because of circumstances that we could not control. Maybe next year??
Thanks also to Helly Hansen, who sponsored the race, gave out some wonderful prizes, and provided the cakes for after lunch.