Our team of delegates for the State Conference consisted of Denis, Michael, Ken, Ivan and Eli.
All arrived before the conference commenced on Friday evening, and attended each session.
It was a busy program, with discussions between branches, presentations of important innovations, a chat with our patron, Liesl Tesch, and a Team Building Session.
We also discussed the new set up for the State Website, and prioritised a list of items to be worked through by our Executive and the branches.
Also included were a couple of very practical sessions about Discover Sailing centres, and our new method of registering boats, trailers, Power Boats and moorings.
It was mainly a very practical weekend, with lots of opportunities to talk about our philosophy and our culture, and time also for some fun and games.
Most delegates stayed in close proximity for the weekend, at the closest caravan park, so there were also lots of opportunities for socialising and discussing convenient ways of doing things.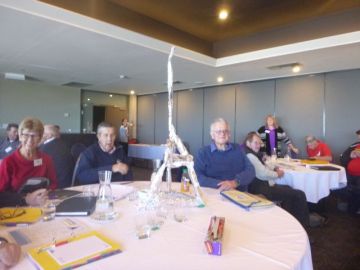 The picture shows the result of the Team Building session, where our table group had to build a tall building that would stand up using nothing but a roll of very cheap aluminium foil. Our table was not able to manage the task, but a very successful building was built by this table, including Graeme Adam, our publicity Officer, Denis Critchley, president of Sailability Gosford, and Marg Jensen, President of Sailability Toronto.