A very limited group of volunteers joined us this morning. This is because there was a strong North Easterly blowing, and I guess they didn't ring to check whether sailing was on. Sailing was on, though, because in spite of the forecast from the night before, the wind had eased, and was dropping further as the day wore on, so that those that arrived had a pleasant sail.
We only put 3 boats out, because of the number of volunteers on deck, with Denis, Rob and David doing all of the sailing.
Our limited team was: Helen, Wilma, Tony, Ray, Allison, Corey, Ken, Ivan, Steve, John, and Kath.
SEALS were the first group to arrive, with Nikita, Jake, Tom, Montana, Chantel, Doug, Alister and Cheree getting out on the water, and a little bit wet because of the big waves breaking over the sides of the boats.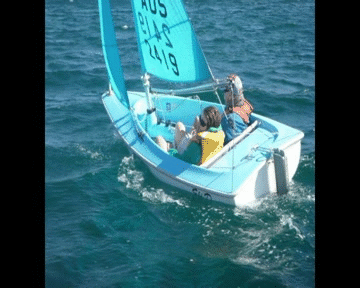 Luke, Jocelyn, Vanessa, Rodney, Jenny were next, with Adonis, Ben and Simone not wanting to get on the water, but content to sit in the sun. Of the Sunshine Group, only Michael sailed, with Simon, Warren and Danny preferring to sit in the sun.
Unfortunately, Choose and Connect arrived a little too late, as we had already lifted the boat out of the water by the time they arrived.