The wind was just about on our limit when we started our sailing this morning, with a few gusts, causing us to reef our sails before leaving the pontoon.
Less experienced sailors decided that the pontoon and deck was the place to be, so the crew out there was our most experienced. It was not only the wind that we had to watch out for, but the swell was quite high, with choppy little waves breaking into the boats, making life exciting for our sailing participants.
Oliver was first, then the group from Sunshine French's Forest; Amanda, Anna, Georgia, and Ellen. It was too rough for Georgia, but the rest enjoyed their sail.
Then Peter, Ashleigh, Derek, Michael and Cameron arrived with Tim. All of these had a great time on the water. Michael, Hanlin, and Vincent arrived from Menimbah. Michael elected for a ride on Charlie's Chariot, but the other young men sailed.
Kris brought Jack, Christian, Joshua and Alessandro. They particularly enjoyed their time on the water before our Wonders from Waitara arrived. Maddie, Scott, Robbie, An and Matto came with Paige.
Last of all came Denis, Stefan, Nina, Tiara, David, Mikey, Ross  from House With No Steps. This group chose a variety of settings for their enjoyment of the day. Some sat in the sun and enjoyed their lunch, some sailed or hitched a ride on Charlie's Chariot after we had pulled all of the sailing boats out, because the combination of winds and rising swell became too dangerous for us to keep sailing.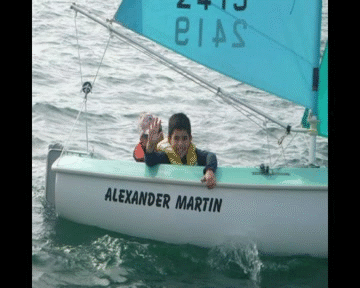 Our crew for today was:
Sailing Coordinator: Malcolm.
Charlie's Chariot Driver: Jim, then John W.
Observer: Corey.
Registrar: Helen.
Photographer: Ken.
Time-keeper and radio: Ray.
Life-jackets: Wilma.
Sailors: Ivan, Col, Brian, Peter, Michael, John, David G., Jim Y.
On the pontoon helping: Eli, Jim Q., John.
Helping up on deck: Helene, Marc, Oswin, Tamim.
A whole ocean going shipload of thanks to Wilma and Ken, who managed a donation of four dozen Easter Buns from Baker's Delight at Mona Vale, warmed them up and kept them warm for our hard-working volunteers.