It just keeps getting better. This morning, Helen was the Sailing Coordinator. She kept a wonderful check on everything that was going on, and made sure everyone had plenty of sailing in the perfect conditions.
Denis ensured that all of the boats were properly rigged before going down to the pontoon, where Barry was the Pontoon Manager, soon to change places with Brian.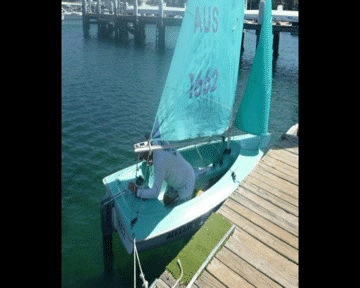 Wilma was in her element choosing the correct Life-jackets for everyone, and also took a hand in the registrations. Ray was the Time-keeper. Warwick started off as Support Boat Driver with Corey as observer, and some visitors to our sailing day Elaine and friend accompanied the boat out with Ken as photographer.
Our sailors this morning were: Rob, Col, John W and John P, Jim, Ivan, Steve, Michael. All of the other helpers also managed a sailing lesson this morning, as our participants wandered in slowly. John P was very impressive, sailing with our participants for the first time, after many lessons and opportunities to gain confidence.
Later on, Jim took over on Charlie's Chariot with Tony as observer. When the participants arrived, Allison was very busy on the deck and pontoon, Brian took over as Pontoon Manager and the day swung into our usual smooth operation.
Our first participant for the day was a very excited group from Dee Why Special class.
Most managed to have a turn on both boats, and some managed two turns. Dylan, Felix, Lowanna, Lachlan, Samuel, Oliver, Jayden, Riccy, Jecobi, Soraya, Talon, Heath and Alan were really learning about the environment, and enjoying the stiff breeze. It will be sad to lose a couple of these students to Cromer High next year.
Steven arrived on his own from Freshwater High, and made a great effort to be as independent as possible on the water. His big chance to show off his skills will come on Monday when his class is going to take part in a Regatta. Ben was next, now confident enough to take out Clea solo, manage to get through the moored boats and past the ferry lane with almost no help. He had a wonderful time out there for close to an hour, and came back without any help at all. Great work, Ben.
SEALS were next. Nikita, Zoe, and Chantel enjoyed their sail, then Achieve arrived with Alex, George, Hannah and Keren, who is very vocal about enjoying his sailing. Last of all, Liz and Robert came down from Waitara Wonders. While Samantha had her morning tea, they took off for their sail in the still stiff breeze, showing very obvious enjoyment.