Helpers this morning were:
Denis, David , Mal, Ray, Megan, Jim G, Ken, Helen, Jim Q, Wilma, Caroline, Philippos, Lyn, Ros, Ivan, Amin, Jack, David G, Jay, Jannie, Tony, Colleen, Helene and Ted.
Our participants were few but outstanding in their achievements today:
Laurie sailed twice, and had some wonderful conversations, and several cups of coffee between sails.
Ollie managed a solo sail in a 303, and had a ball out there on the Manly Cove waters. He made it out there between the moored boats without any help, played around in the cove for around 35 minutes, then manged to almost make it back past the ferries and the moored boats. He just needed a tiny bit of help to make it back to the pontoon. Well done, Ollie.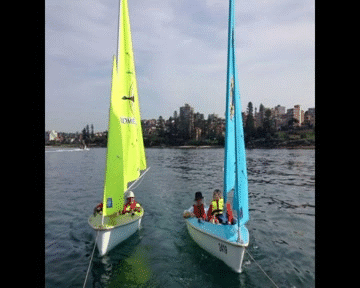 Philip has announced that he has a car share arrangement with Go Get named after him, because it is his idea. He wants to be able to get away from his family sometimes, so has arranged with Go Get that they will provide a car that is accessible for his wheelchair. His carer can take him out anywhere, including treatment sessions and recreation without having to worry his parents, for a very reasonable fee. Congratulations again, Philip, you are truly an amazing human being. Also amazing is his work experience to be carried out next week, in the entertainment industry. More on this later.
Vanessa came down for her usual calming sail, hopped in the boat independently, and stayed out there in the gentle breeze without any complaints.
Mattie had his usual calming sail.
Anna, Ashley and Kerrie had plenty of time for sailing on this wonderful stress-free morning and Grant managed to sit up on deck absorbing the atmosphere without causing any fuss.
Thanks, everyone for a lovely day.