This morning there was a break in the weather that enabled us to have a regular sailing day in the middle of that East Coast low that has been soaking the East Coast of Australia from Queensland to Victoria. How lucky was that?
Having programmed a sailing day, our good volunteers arrived to put out 5 boats because we had expected 3 groups down to sailing. It seems that the groups are more tentative than we are, because they did not bring their groups down, in spite of the very optimistic message on the machine. Oh well, these things happen. It gave us opportunities to take our newer volunteers for a sailing practise, and to get the boat room tidy after some very strong winds and high tides had caused havoc earlier in the week.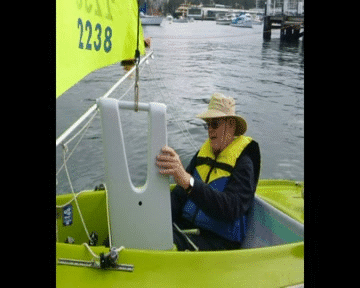 Barry and Caroline took Charlie's Chariot, Helene was the Sailing Coordinator, David the Boat Operations Manager, Tony the radio-operator, and Ray the time-keeper. Sailors Ivan, Cathy, Bob, Jack, John and Michael took Megan, Maurine, Oliver, Tony, Jacob for a sail while we waited to see who else would turn up. This meant that everyone received a really long sailing practise time until Philip, Vanessa, Craig and Matt arrived. We were also able to take Matt's helper, Jason, at the same time. Helen had some delicious sausages ready by the time the sailors got back, so the putting away became easy and companionable. Thanks to everyone who helped today, particularly those who did not have a definite job, who moulded into the activity to give a hand wherever necessary; Bob, Denis, Jannie, Jim.