We had an excellent turn up for our Regatta this morning, and the weather was perfect to make it even more exciting.
Participants: Denis and Ivan; Michael and Ollie; Jackie and Caroline; David W and Tony; David Go and Ros; John and Crew; David Gr and Judy, Ralph and Sarah, and Alan were all there pleasantly early to rig their own boats, while crew on Charlie's Chariot; Jennie, Ken, Tacha, Troy, as well as Manly Yacht Club Race Officers, Pam and Bruce had everything ready by the time the race was due to commence. Catering crew Colleen, Matt, Peter and Eli were already working hard to get the items for the lunch together, prepare it in the kitchen, then wait until the racing was finished to take it downstairs.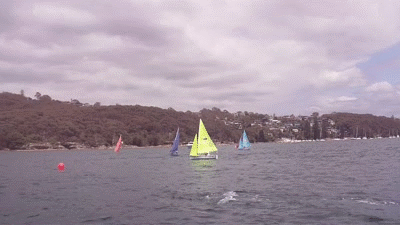 It is not an easy job to prepare 9 Hansa Dinghies for racing, but with everyone helping, the boats were taken down to the pontoon, last minute touches added, a quick briefing, then all of the crews embarked and took off across to Reef Beach to start the race.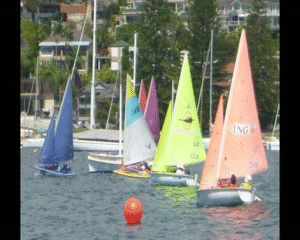 3 races were run in near perfect conditions. Bruce and Pam remarked that it was the closest race for Hansa Dinghies they had seen for a very long time, with constant changes of position, and some incredible concentration shown by all skippers and crew with the final results:
David Go and Ros were the winners.
2nd place: Jackie and Ros.
3rd place: Denis and Ivan.
The putting away was not easy, as the racing took so long that the Juniors and G fleet were ready to go at the same time as the Hansa Dinghies arrived back. It was wonderful to see the cooperation and good spirits of all teams as they threaded their way amongst each other with the hoist working overtime;  youth, people with a disability, parents, volunteers and others working together to make everything work smoothly. United Nations take note.
Last of all, the delicious lunch provided by the kitchen crew, lead by Colleen, was on the table and being consumed by our team of 21. Thanks so much to Pam and Bruce, and the whole of Manly Yacht Club for making our end of 2017 Regatta a success.