The forecast weather seemed OK if all worked the way it was suggested. Unfortunately, we had just got our Royal Far West Students, Ryan, Liana, and Will out on the water when the gusty winds became more than our little boats feel comfortable in. At the same time, the students from Dee Why Primary Special Group arrived.
They decided to sit in the sun for morning tea while we waited out the wind.
It did seem that there was a settling down of the breeze, and after discussions with our very skilful sailors, we decided to go ahead with these students.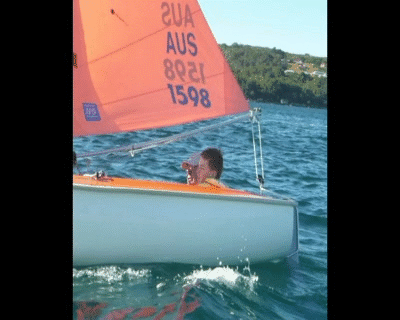 It didn't last long though, and we had to abandon sailing after a couple of small incidents when the gusts caused one boat to race into shallow water, and another to come so close to the moored boats that the main sheet became caught around the stern of a boat. We handled both of these incidents fine, with lots of input from Peter, who single-handedly saved the day, standing on the skiff club ramp and using the rope to move the boat to safety, then calling for the Support Boat to help with Woody, caught on the stern of a moored boat.
We were disappointed that we were forced to abandon sailing before everyone had had their turn, but these things happen, and it is preferable to be safe rather than sorry.
Crew for today:
Excellent Sailing Coordination and brilliant leadership: Col
Support Boat Driver: Warwick
Observer: Corey
Photographer: Jim
Registrar: Helen
Life-jackets: Eli
Pontoon Manager: Malcolm
Sailors: Denis, Rob, Peter, David, Michael
Time Keeper: Ray
Extra helpers: John P, Marc, Ivan, Tony, Bob, Steven