A fabulous team was at Sailability today:
Sailing Coordinator Helen did a magnificent job, keeping the participants flowing, and ensuring that everyone got a sail in the calmest conditions.
Allison was pontoon manager, ably helped by Marc, John P, Col, and Malcolm.
John W was the Charlie's Chariot driver, with Corey as Observer.
The photos today are wonderful, thanks to Ken.
Sailors were: Jennie, John P, Rob, Jim G, Malcolm, Peter, Steve, David, Ivan, Michael.
Wilma carried out her duties as Life-Jacket Coordinator, Ray was the efficient Time-Keeper and Radio Operator.
Denis was the Boat Operations Manager.
It was lovely to see back with us this morning, after long absences due to medical treatments both Jim Q and Ray. Please stay well, both of you, we run very smoothly with you on our team.
Royal Far West students from Bathurst, Quirindi, Griffith, Wallerawang, and all points west started the morning with paddles, as there was not even a breath of breeze. Once the breeze had sprung up, it was a steady 5 knot North Westerly, so they popped the paddles away and had a pleasant sail around the bay. It is good to see these students absorbing sailing skills which they can generally use in their home towns, or back at Manly when they come for their next visit. Teachers Craig and Jenny brought Hunt, Dylan, Potter, Kane, Lachlan, Beau, Claudia, Angela, Zach, Mitchell, Jacob. Being on the water was a brand new experience for a couple of these students, who opted for a ride in Charlie's Chariot in preference to sailing, while a few even snuck in a ride in both while we waited for the next group of participants.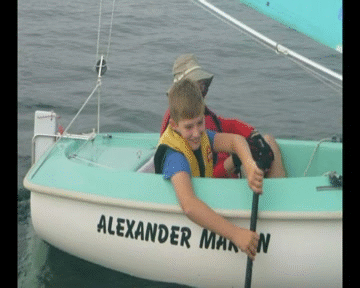 Rebecca, from Fisher Rd School, brought down Alexsandra, Jaspur, Dylan, Jamie, Eddie, and Kyle. This was their first visit to us, but no-one had any reservations about sliding into a boat and going off with their skippers. Beautiful smiles appeared on scared faces as the effect of the water took over, and great enjoyment from dragging arms along in the water cooled hot skins as these children had their first experience of sailing.
Ben, Ginny, Luke and Vanessa came with Glenn. Ben preferred to start his day in Charlies Chariot, while Vanessa quickly donned a life-jacket and waited her turn in a sailing boat. The others waited more patiently, absorbing the atmosphere and some morning tea. Later, the other Sunnyfield group arrived: David, Rodney and Adonis with their helper. Ben swapped places with Rodney, and the sailing continued with these participants.
Juel from Minimbah brought Michael down, then our Waitara Wonders arrived.
Sasscha, Les, Matto and Josif are becoming quite familiar with sailing, and hop happily into the boats when directed to do so.
Last of all, Travis arrived very late with his helper, Mark and had just a short sail while the other boats were packed away. Travis is enjoying his sailing so much, he has become quite chatty while on the water.
A very enjoyable day for all the helpers and participants.