A cool morning with a steady south easterly saw a group of helpers, sailors and carers put out 5 303's to contest the Australia Day Regatta in Manly Cove. Each crew rigged their own boat, and took it down to the pontoon to launch.
We had a little excitement when Peter, our Support Boat driver rowed across to Charlie's Chariot to find a completely flat battery. Quick thinking by a number of members sent us to one of the MYC boats, Robbie R, to borrow that battery, and we were able to get the race organised. Graham and Maz were in Carlysle, waiting across the bay for Charlie's Chariot to arrive so that the course could be set. A record time for setting the course, thanks, Caroline and Ken in Charlie's Chariot, and Graham and Maz for clear instructions.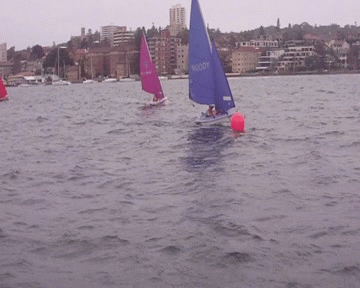 The late start enabled the wind to increase to a very respectable strength, so that 3 races were able to be raced by our very excited and competitive crews. As a spectator remarked, it was a closely contested race, with many changes of position, and very exciting to watch.
Ivan and Denis were at their usual peak, and managed to win first place in Woody..
Jackie and Ollie came in second in Dolly Wallis.
Cathy and Judy came in third.
Michael and Tony just pipped Jannie and Adam to 4th and 5th places.
While the race was happening, lunch was being prepared by Sally and Colleen. It was a fantastic lunch, with a variety of sandwiches, nuts and fruit, and a few cakes and chocolates to celebrate Australia Day.
A very quick put away was achieved, hopefully everything in the right places to we can make a quick start to sailing on Saturday.
Eli and Alan video editor.