This was a wonderful morning sailing. What a pity more people did not take advantage of the fact that sailing was perfectly suitable today, as the weather turned out to be just fantastic, and the limited number of volunteers and participants had a great time on the water.
It was hard work for the volunteers, though. It is a long time since everyone present needed to put such an effort into the basics, because we have always had a million willing hands to make the work lighter. So a huge thank you to Ray, Helen, Denis, new helper Amaru, Jay, Caroline, Ivan, Ewan, Ralph, Cecelia, Tony, Lyn, Jake and Hugo.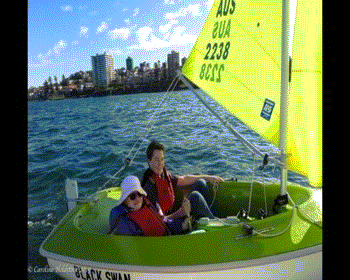 Ray became the Sailing Coordinator, Helen, Registrar and chef, Lyn was the time-keeper, Denis the Boat Operations Manager, Ralph, then Cecelia, the Support Boat Drivers, Amaru had a sailing lesson, and did lots of work on the pontoon. Sailors Denis, Ivan, Ewan, Jake and Hugo kept things moving on the water, and we had a few change-overs as the day continued. We are indebted to Alice and Jason, who came down later to help us with the final sailing sessions, and stayed to stow everything away neatly at the end of the day.
Maurine, Oliver, Craig and Vanessa had a good long sail at the beginning of the day in the brisk South Westerly that is a feature of Manly Cove in Winter. They were warmly dressed and relished the fast movement across the bay, round the buoys and back again while we waited for our BIRDS contingent. Dirk, Mark, Robert, Stuart and Roger really loved their sailing, although Dirk was feeling a little cold in his shirtsleeves. Then Brad, Daniel, Carlo and Peter went for their sail in the rapidly dropping breeze.
Thanks, brave souls for taking part today, and making the day a great one for all.