Wicked in the sense that everything worked smoothly, everyone had a great time, and this was the most efficient day we have ever had. The helpers arrived promptly at 8.45, swished 7 boats on to the deck, rigged and set up the boats, had them checked by wonderful Boat Operations Manager, David W, and had just completed the briefing when our Royal Far West participants arrived ready to sail.
Crew for today was:
Sailing Coordinator: Helene
Pontoon Manager: Col.
Charlies Chariot Driver: John
Photographer: Allison
Observer: Corey, then Jay
Radio: Ray, ably assisted by Tony
Sailors: Ivan, Warwick, Brian, Steve, John, Jennie, Peter, Bob, Michael.
On the pontoon, David G, David W, Malcolm
Helpers on the Deck: Helen, new volunteer, Angela, Jim, Marc.
Our Participants had the most wickedly wonderful helpers today, ensuring that everything went smoothly. Craig, from RFW brought Harrison, Piper, Bailey, Dustyn, Cheyne. All had a whopping time on the water.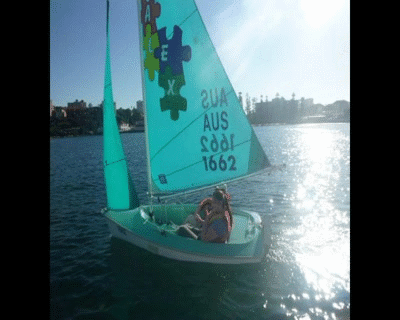 Rebecca and her team from Fisher Rd brought Jasper, Eddie, Kyle, Dylan, James and Alexsandra. There were no problems getting any of these onto the boats.
Soon our Green Team from Verne Barnett arrived with Sarah. Oliver, Callum, Canden, Trista, Ashley, Archie, Kai, Oscar, Ryan, Christian, Alexander, Leo. What a fabulous Birthday present for Trista, who turned 6 today. These children sat down to a Morning Tea while they waited patiently for their turn on the water. As the Fisher Rd participants returned to the pontoon, these children exchanged places in the boats. At one stage, Michael managed to ground his boat in the rapidly falling tide. Our rescue operation was efficiently carried out as we have practised many times using a long rope with a float attached. There was no change in the rhythm of the day.
Jonathan arrived with Doug and went off in Charlie's Chariot.
Last of all, the jet-pilot from AFFORD, Kris, arrived with Michael, Adam, Alessandro, Gus and helper Ann.
While all of this sailing was going on, the 2 Davids on the pontoon decided to scrape the oysters off the pontoon piles, increasing their efficiency, a necessary chore that needs to be done little and often.
Thank goodness, the weather forecast for the day was way off the mark. What was forecast to be a rainy, windy day with strong gusts turned out to be mild, with a steady breeze from the west making an ideal day to take lots of participants out on the water, giving them and their carers a lovely break from routine.