There was something very special about this morning. Perhaps it was the huge smiles from all of the sailors when the weather cleared, or just a lovely group of people getting together for a sailing day.
Thanks so much to our helpers, who put their trust in Helen's forecast that….yes, it will clear, and there will be enough breeze.
Here are the names of these wonderful people:
Sailing Coordinator: David.
Support Boat Driver: Warwick.
Sailors: Denis, Jennie, Peter, Steve, John, Brian, Ivan.
Pontoon staff: Helene, Allison, Col.
Registrar: Helen.
Life-jackets: Wilma.
Radio: Corey.
A very large group of participants came from Dee Why school for their first try at sailing for the year with their extended class, which now has 17 students. The weather was perfect for us all to have a run on the Support Boat, as well as a sail, before the group from Waitara came down a little later.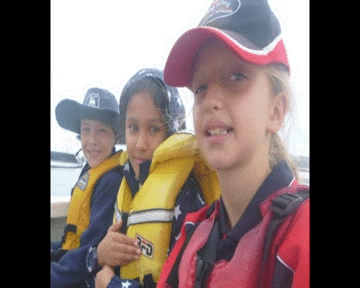 We also made use of the verandah of the Yacht Club upstairs for this large group to wait their turn while munching on morning tea. Heath, Felix, Jayden, Soraya, Riley, Sienna, Isaac, Mia, Alan, Samuel, Jecobi, Dylan, Oliver, Lachlan, Lowanna, Melissa, Kayam.
Michael came with Alan from Menimbah, and enjoyed his ride on Charlie's Chariot, where he can sit with his carer.
Later on, when all of this group had their fill of on water activities, Waitara Wonders arrived, with their hard-working helpers, Paige and Gavin.
Les, Alan, Scott, Rob and Claire all had a wonderful sail. Claire wins my prize for the keenest sailor this morning. A huge smile, a hop, skip and jump to the pontoon, and into the boat as if she has been doing it all her life.