A perfect day dawned for sailing down at Manly. An army of volunteers descended on the Yacht Club, rigged 6 boats ready for a sail, collected Charlie's Chariot from the mooring, readied the paperwork, opened the life-jacket bins, and we were ready to go by 9.30. Sailors and volunteers were able to have a turn sailing before the first group arrived.
Thank you so much to to-day's volunteers:
Sailing Coordinator without Peer: Warwick.
Boat Operations Manager: Denis.Pontoon
Manager: Malcolm.
Support Boat Drivers: Jim then Peter.
Observers: Ken, then Ros.
Sailors: John G and John B, Ivan, Rob, Jim, Peter, Bob, Col, Helene.
Registrar: Wilma.
Life-jackets: Sheila.
Deck staff: Ros, Krishel.
Time-Keeper, and radio: Corey, then the inimical Ken.
Pontoon staff: Marc, Jennie.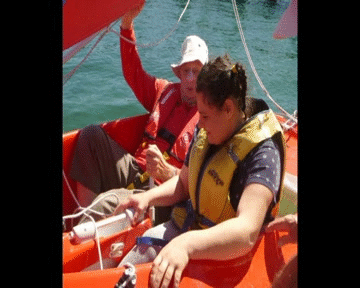 We had a few kids on holidays down this morning to lend a hand to their parent and grandparent volunteers: Archie, Rorry and Ben.
First group of participants to arrive were SEALS, two groups in fact. Luckily, Zoe, Thomas Teresa and Nikita arrived earlier with helper Olivia to take advantage of the so far quiet morning, then Phillip arrived solo. Doug, Jake, Elyce, and Allie came next with Simone and Joel. Then a new member, Travis arrived with helper, Mark.
The jet-pilots from AFFORD were next, with helpers Natalie and Kris and absolutely loved their sailing: Allesandro, Jackson and Mark went in the boats, while Alastair kept guard on the deck and pontoon. We also met some new members from Achieve Epping this morning: Helpers Kaz and Glen brought Robyn, Janice, James and John. This is the first time we have seen this small group, and it was an absolute pleasure meeting them.
Ben came from Ryde re-hab, with helper, Kel. We are hoping to be able to do some modifications to the joy-stick so that Ben can hang on manoeuvre it securely so that he will be able to sail solo eventually in Clea. Great plans for next time he comes.